December 1st 2023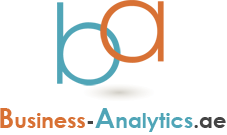 1.Acceptance of Terms
Welcome to businessanalytics.ae. The services provided by businessanalytics.ae, are liable to the following Terms of Use, which we update regularly, without posting notices on a personal level. Furthermore, while using certain services offered by businessanalytics.ae, both you and ourselves are liable to the terms applied by businessanalytics.ae. All such terms are included in the Terms of Use.
2.Description of Services
businessanalytics.ae provides to its users access to educational material, interaction tools and more. Unless otherwise noted in the Terms of Use, the new content and material added to businessanalytics.ae are liable to these Terms of Use. This means that the content is provided "AS IS" and businessanalytics.ae is not responsible for any deletion or flawed transfer of its content. businessanalytics.ae is not responsible for any deletion or flawed transfer of data or for any unsuccessful attempt of storage of users' personal data.
3.Law Enforcement Obligations in Terms of Copyright, Leak of Personal Information and Proper Operation of businessanalytics.ae
You agree NOT TO USE the services offered by businessanalytics.ae in order to:
Transfer its material (educational material, proprietary program etc) in any form, either printed or online, with the aim of sharing it with third parties for commercial purposes.
Gather or store information or personal data which belong to other users of businessanalytics.ae in any illegal way.
YOU EXPLICITLY AGREE THAT BUSINESSANALYTICS.AE  RETAINS THE COPYRIGHT TO ALL CONTENT POSTED BY USERS, MEMBERS OF THE ONLINE COMMYNITY AND COLLABORATORS OF ITS WEBSITE.
4.Acceptance of Terms for International Use
Keeping in mind the fact that Internet does not have borders within a country, you agree to comply with the international standards, laws and rules in terms of transferring technical or non technical elements which are exported from Greece to other countries.
5.Content and Agreement with Advertisers
Your communication or agreements with our advertisers do not have any relation with businessanalytics.ae. You agree that businessanalytics.ae.is not responsible for any damage or issue that may arise between you and the advertiser regarding any agreement held between you.
6.Copyrights and Trademarks
Unless otherwise noted, all materials including without limitation, logos, brand names, images, designs, photographs, video clips and written and other materials that appear as part of our Website are copyrights, trademarks, service marks, trade dress and/or other intellectual property whether registered or unregistered ("Intellectual Property") owned, controlled or licensed by  Business-Analytics.ae. Nothing on our Website should be construed as granting, by implication, estoppel or otherwise, any license or right to use any Intellectual Property displayed or used on our Website, without the prior written permission of the Intellectual Property owner. The names and logos of Business-Analytics.ae, may not be used in any way, including in advertising or publicity pertaining to distribution of materials on our Website, without prior, written permission from  Business-Analytics.ae. Business-Analytics.ae prohibits use of any logo of Business-Analytics.ae or any of its affiliates as part of a link to or from any Website unless Business-Analytics.ae approves such link in advance and in writing. Fair use of Business-Analytics.ae Intellectual Property requires proper acknowledgment. Other product and company names mentioned in our Website may be the Intellectual Property of their respective owners.
7.Links to Third-Party Websites
Our Website may contain links to Websites owned or operated by parties other than  Business-Analytics.ae. Such links are provided for your reference only. Business-Analytics.ae does not monitor or control outside Websites and is not responsible for their content.  Business-Analytics.ae inclusion of links to an outside Website does not imply any endorsement of the material on our Website or, unless expressly disclosed otherwise, any sponsorship, affiliation or association with its owner, operator or sponsor, nor does  Business-Analytics.ae inclusion of the links imply that Business-Analytics.ae is authorized to use any trade name, trademark, logo, legal or official seal, or copyrighted symbol that may be reflected in the linked Website.
8.Content Disclaimer
Postings on our Website are made at such times as  Business-Analytics.ae determines in its discretion. You should not assume that the information contained on our Website has been updated or otherwise contains current information.  Business-Analytics.ae does not review past postings to determine whether they remain accurate and information contained in such postings may have been superseded. THE INFORMATION AND MATERIALS IN OUR WEBSITE ARE PROVIDED FOR YOUR REVIEW IN ACCORDANCE WITH THE NOTICES, TERMS AND CONDITIONS SET FORTH HEREIN. THESE MATERIALS ARE NOT GUARANTEED OR REPRESENTED TO BE COMPLETE, CORRECT OR UP TO DATE. THESE MATERIALS MAY BE CHANGED FROM TIME TO TIME WITHOUT NOTICE.
9.Information We Collect
Generally, you control the amount and type of information you provide to us when using our Website. As a Visitor, you can browse to find out more about our Website. You are not required to provide us with any Personally Identifiable Information as a Visitor.
10.Computer Information Collected
When you use our Website, we automatically collect certain computer information by the interaction of your mobile phone or web browser with our Website. Such information is typically considered Non Personal Information. We also collect the following:
11.Cookies
Our Website uses "Cookies" to identify the areas of our Website that you have visited. A Cookie is a small piece of data stored on your computer or mobile device by your web browser. We use Cookies to personalize the Content that you see on our Website. Most web browsers can be set to disable the use of Cookies. However, if you disable Cookies, you may not be able to access functionality on our Website correctly or at all. We never place Personally Identifiable Information in Cookies
12.Third Party Tracking Tools
We also use third party tracking tools to improve the performance and features of our Website. These third-party tracking tools are designed to collect only Non-Personal Information about your use of our Website. However, you understand that such tools are created and managed by parties outside our control. As such, we are not responsible for what information is actually captured by such third parties or how such third parties use and protect that information.
We use Remarketing with Google Analytics to advertise on third party sites to you after you visited our Site. We and our third-party vendors, like Google, use first party cookies (such as the Google Analytics cookie) and third-party cookies (such as the DoubleClick cookie) to inform, optimize and serve ads based on your past visits to our Site.
You can opt-out of Google Analytics for Display Advertising and customize the Google Display Network ads by visiting the Google Ads Settings page. Google also recommends installing the Google Analytics Opt-out Browser Add-on for your browser. Google Analytics Opt-out Browser Add-on provides visitors with the ability to prevent their data from being collected and used by Google Analytics.
13.Automatic Information
We automatically receive information from your web browser or mobile device. This information includes the name of the website from which you entered our Website, if any, as well as the name of the website to which you are headed when you leave our website. This information also includes the IP address of your computer/proxy server that you use to access the Internet, your Internet Website provider name, web browser type, type of mobile device, and computer operating system. We use all of this information to analyze trends among our Users to help improve our Website.
14.How We Use Your Information
We use the information we receive from you as follows:
Customizing Our Website We may use the Personally Identifiable information you provide to us along with any computer information we receive to customize our Website.
15.Data Aggregation
We retain the right to collect and use any Non-Personal Information collected from your use of our Website and aggregate such data for internal analytics that improve our Website and Service as well as for use or resale to others. At no time is your Personally Identifiable Information included in such data aggregations.
16.Legally Required Releases of Information
We may be legally required to disclose your Personally Identifiable Information, if such disclosure is (a) required by subpoena, law, or other legal process; (b) necessary to assist law enforcement officials or government enforcement agencies; (c) necessary to investigate violations of or otherwise enforce our Legal Terms; (d) necessary to protect us from legal action or claims from third parties including you and/or other Members; and/or (e) necessary to protect the legal rights, personal/real property, or personal safety of Business-Analytics.ae, our Users, employees, and affiliates.
17.Do Not Track ("DNT")
We do not support Do Not Track ("DNT"). Do Not Track is a preference you can set in your web browser to inform websites that you do not want to be tracked. You can enable or disable Do Not Track by visiting the Preferences or Settings page of your web browser.
18.Newsletter
Your personal information (email, name, surname, company and profession) which we gather, will be archived in order to communicate and promote the services provided by businessanalytics.ae to the members of the community, which are subscribed to the newsletter. businessanalytics.ae is bound to use such elements in accordance with the laws of the Greek Government and the European Union.
The information gathered will be used in order to send newsletters or information material by advertisers of businessanalytics.ae. Such information is not re-selled or shared with third parties, but businessanalytics.ae retains the right to assume any measures, (e.g. temporary or permanent withdrawal of a service), towards those who use the service maliciously or who provided false information.
The User retains the right to unsubscribe from the newsletter at any time, by sending an email to This email address is being protected from spambots. You need JavaScript enabled to view it. and requesting to be unsubscribed from any form of communication. If for any reason a user wishes to unsubscribe from the newsletter (as described above), and they still receive e-mails from our newsletter, please contact us at This email address is being protected from spambots. You need JavaScript enabled to view it. adding as subject to the e-mail - Issue with Mailing list.
IF YOU DO NOT AGREE WITH THE TERMS OF USE BY  BUSINESSANALYTICS.AE, PLEASE DO NOT USE ITS SERVICES.
Infringement of Terms of Use
For any issues or infringement of the Terms of Use that you may notice, please contact us at This email address is being protected from spambots. You need JavaScript enabled to view it..